Getting an early warning on potential problems can make all the difference, particularly when it comes to complex property transactions. Real Estate Lawyers are turning to Data Snapshot via Search Acumen's consolidated data platform to get an early helicopter view of important risk factors in an instant. This allows clients to be consulted at the very start of the process to help them make better informed decisions about how to proceed and reduce the risk of the transaction collapsing further down the line.
Whether you're working on a complex commercial site or a portfolio of residential properties, the interactive map through Data Snapshot gives users complete flexibility to save multiple views, add comments, mark up areas of a map, and toggle data layers on and off.

Nicola Reeve, Head of Commercial property at Talbot's Law, discusses how this tool has helped keep her firm at the top of their game.
Q. Why use Data Snapshot?
A. Nicola Reeve, Head of Commercial property at Talbot's Law: "Incorporating Search Acumen's data snapshot tool into our workflow has proven to be a game-changer for our firm. Both our commercial and residential teams leverage these snapshots during initial search investigations, equipping us with essential upfront insights about potential risks.
"We've found the tool's coverage of flooding, coal mining, geology, titles, and planning to be exceptionally valuable. By adopting Data Snapshot, we've essentially streamlined our processes. It has prevented duplication of unnecessary work and avoids the delays caused by having to order searches right at the start, getting us to the heart of what's relevant much quicker.
"Even when clients don't opt-in to use the tool, we are still willing to invest in it, as we recognise its role in saving us both time and money. Embracing this resource ensures not only immediate benefits, but also shields us from potential delays further down the line. By identifying risk, we are eliminating the factor of unknowns as much as we can."
Q. How have you used Data Snapshot in caseloads?
A. "Search Acumen's Data Snapshot tool has proven to be an essential asset for us when acquiring fast food restaurants on behalf of our clients . In some cases, we might be purchasing over 12 stores at once, so its ability to consolidate complex information into a comprehensive report helps us avoid redundant efforts. Instead of tackling each store individually, we can focus on a single data report that summarises information across all the properties, to pinpoint exactly what we require. Additionally, the tool's identification of potential issues pre-emptively safeguards operations; an important advantage when navigating the intricacies of nationwide store acquisitions.
"The data reports have become even more indispensable in the post-COVID era, helping to navigate us through the backlog caused by the pandemic. Particularly intricate transactions like complex part leases and sales, have now found a streamlined path forward, preventing roadblocks encountered in ordering commercial searches.
"Another client, who was purchasing a site made up of seven or eight titles, benefited hugely from our use of Data Snapshot. The various parcels had been acquired over many years and the various titles were registered on title plans at differing scales, causing a lack of synchronisation. The ability to identify the gaps in the registered title only came about with the utilisation of Search Acumen's Foresite platform. The data report simply displayed the areas where information was missing and compiled into a client-ready document. In the past, achieving this would have required a manual overlay process prone to inaccuracies and mistakes, therefore, having this foresight from the outset averted subsequent delays and helped build a better relationship with the client as a result."
Q. Do you think this tool gives you a competitive advantage?
A. "There is no doubt that Data Snapshot gives us a competitive advantage. Integrating insights from the reports directly into our proposals leaves prospective clients pleased by the fact we don't have to wait for searches and can provide such useful information upfront. This allows us to make informed decisions about possible risks in the first instance.
"We save so much time using the reports generated by Data Snapshot that would otherwise be spent regurgitating information. This efficiency factor frees time for our lawyers to do more valuable tasks and upskill."
Q. What other tools within Search Acumen's platform have proved invaluable?
A. "When we requested the inclusion of EPC data into the layers, Search Acumen not only heard our vision but transformed it into reality.
"Announcements by the UK Government aimed at enhancing energy efficiency in rental accommodations has made easy access to EPC data even more of a priority for clients. Search Acumen incorporated EPC data alongside their 500 other layers within the commercial platform to support our work. It has the capability to provide us with not only the EPC rating of the property, but those of neighbouring properties too.
"Adding this additional layer is part of the convenience and efficiency of having numerous data points in one place, allowing us to do the best possible work for our clients. We are spending less time on cumbersome administrative tasks and more time progressing more complex casework."
Q. How important is Talbots Law's Digital Transformation?
A. "Incorporating technology into our practice is a priority for us. We're a large firm and are always looking at how new technologies can help us. We have a dedicated innovation workstream driving this throughout our business. We believe there is such benefit for law firms to get on board with doing everything they can to help the client journey to not just become more streamlined and efficient but deliver a more economical service. Clients expect a digital-first service, like all the digital touchpoints they are used to in their day-to-day, which means the sector must innovate to remain relevant.
"Search Acumen's Data Snapshot is an extension of this vision – bridging the gap between the mine field of various datasets and the gatekeepers who own them, to the lawyers and clients who need them most. Search Acumen is always innovating so law firms don't have to. They keep firms at the forefront of technology."
Interested and would like to know more about Data Snapshot?
Read about the key features, benefits, watch videos plus much more now.
Find out more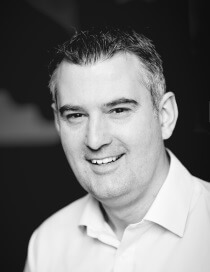 Would you like to hear more on Digital Transformation at Search Acumen?
Have a read our our blog, 'The importance of prioritising digitalisation, especially AI', written by Andrew Lloyd here.